What is MapQR?
MapQR is a two-dimensional code storing positional information which can be read by humans and machines.
For details, please visit our dedicated site https://navicon.com/MapQR/en/index.html
・Easily recognizable related to Location
・Provides simple visual map image of a location
・Provides accurate location data
・Easy to print
・Can be used globally
By printing a MapQR on paper, you can check locations on your smartphones as well as browse information on various locations that have been registered.
You can also send location information to map applications and car navigation systems for directions to your desired destinations.

MapQR Code Generation Service
By registering location information at the MapQR code generation website, you can generate the MapQR code image of your desired destination.
By printing or distributing this, end users can read the location information using free-of-charge smartphone applications.
The codes can be generated by anybody, one each time, and be used extensively on personal name cards, event flyers of circles, and the guidebooks and pamphlets published by companies.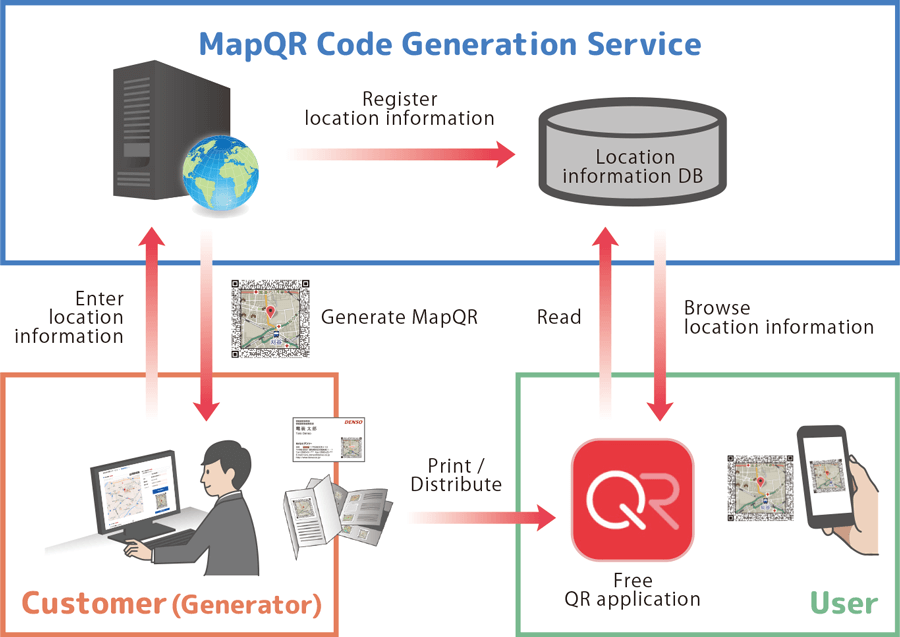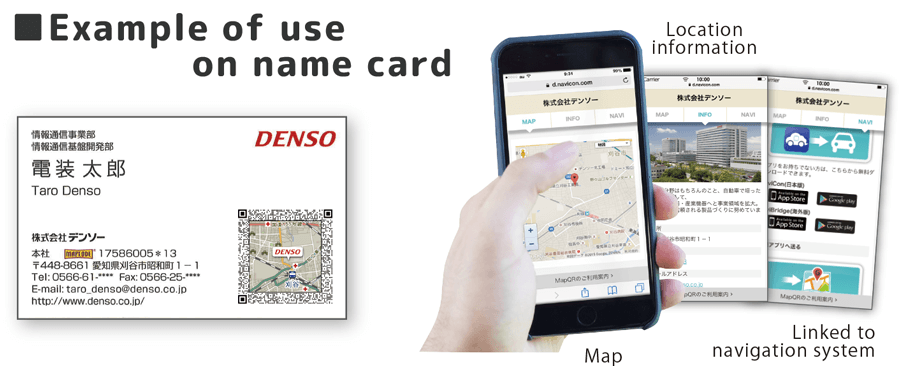 How to Generate MapQR Codes
This service allows codes to be generated in two ways.
| | | |
| --- | --- | --- |
| Method | Manually using a web tool | Automatically by WebAPI |
| Main purposes | Suitable for easily generating the MapQR codes of a few locations for use on personal or corporate websites. | Suitable for generating the MapQR codes of large number of locations dynamically for magazines, guidebooks, applications, etc. |
| How to Use | Enter the location information according to the instructions on the screen. The MapQR code image will be displayed. Download it to use. | Send location information according to the API specifications to acquire the MapQR code image in JSON format. |
| Illustration of Use | | |
MapQR Service Fees and Payment Methods
MapQR codes can be generated free of charge by registering as members.
You can also browse location information free of charge for a certain period of time.
To continue browsing location information, annual service fees will be required.
Fees for using this service are paid by the party generating codes. End users of the codes can use them for free.
Currently, we are having a campaign which extends the usual one-month free-of-charge period to six months.

Discounts are provided for usage fees depending on the number of codes used at the time of payment.
The more you use, the more reasonable it gets.
| | |
| --- | --- |
| No. of codes currently used | Usage fees (annual) excluding tax |
| 1 – 4 | 2,000 yen |
| 5 – 9 | 1,500 yen |
| 10 – 49 | 1,200 yen |
| 50 – 99 | 1,000 yen |
| 100 – 499 | 800 yen |
| 500 – 999 | 600 yen |
| 1000 and over | 500 yen |
Payment example
For the payment for ⑦ in the right drawing, at this point, 5 codes ② to ⑥ are being used. Consequently, the prices for the 6th code is applied.
You can choose to pay by code or by purpose.
Payment methods include credit card and bank transfer( Pay–easy ).
Procedure for generating MapQR code design
You can generate MapQR codes at this website using the following procedure.
If using an API, ƒ③ to ⑤… will be carried out automatically.
Register as member

Register your personal or corporate email address. You will receive a member ID for login.
Register your purpose

Register the purpose of using MapQR (for printed matter, website, application, etc.)
If you are using MapQR for several purposes, please register for each one individually.
After issuing the member ID, you can generate/manage/edit codes according to purpose.
Enter location information

Enter the information of the facility at the location for which the code is to be issued (name, photo, description, etc.).
Based on the information entered, a browse page will automatically be generated when the MapQR code is read.
Information entered can be re-edited and updated anytime.
Map setting

You can set the information of the location for which the code is to be issued, and map design.
You can also read and check the generated MapQR code image using the Preview function.
Download

Download the generated MapQR code image (PNG) and save it.
Normally, it will be saved under the filename "individual ID+location name" in the Download folder.
Selecting the MapQR Code Design
You can select the MapQR design according to your preference.
You can also freely change the map area.
By selecting the transparent design, you can combine the code image with a simple map, etc. that you may have.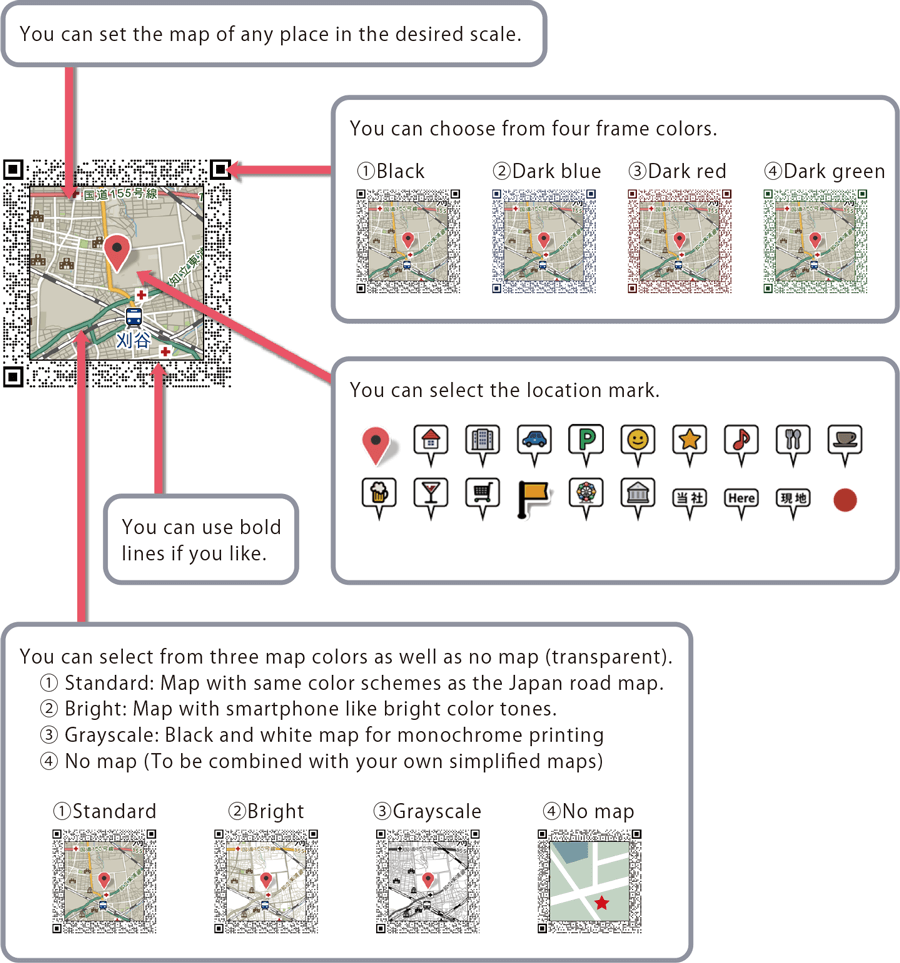 Location information which can be registered to MapQR
By reading MapQR generated by location on your smartphone, location information generated by the customer can be browsed using the Internet browser.
Items that have not been entered are not displayed.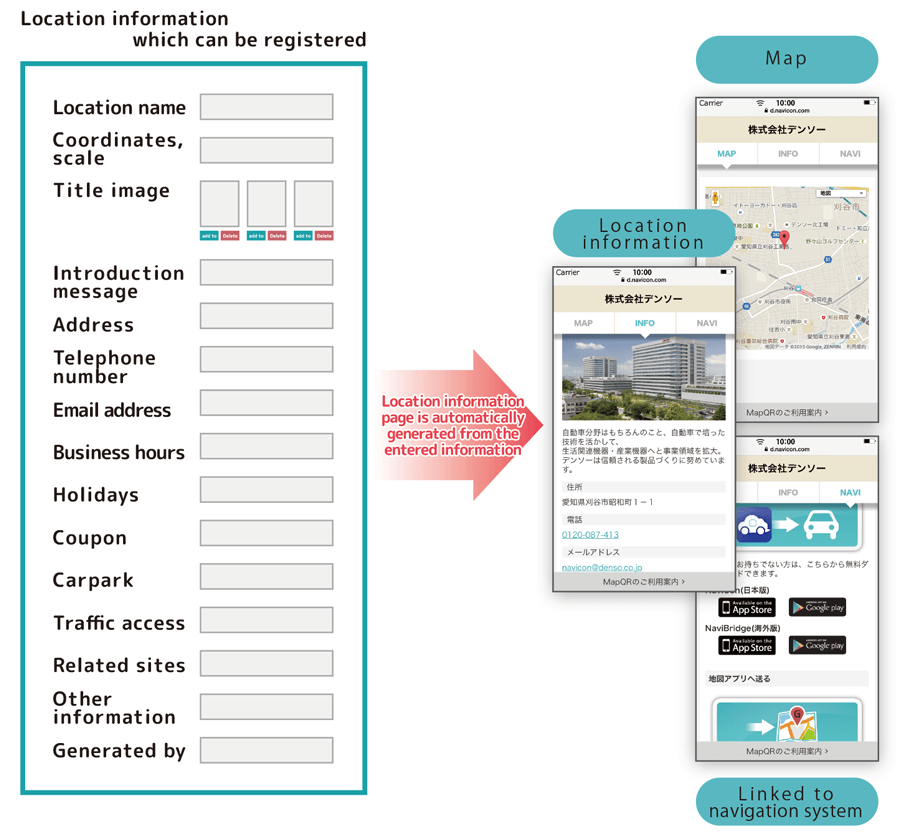 Up to three title images can be registered for use at "INFO" (2MB each).
Registered images are sequentially displayed as a slide show.
By registering the animation GIF images, you can display pseudo animations.
Printing MapQR Code Designs
Generated MapQR code image will be as follows.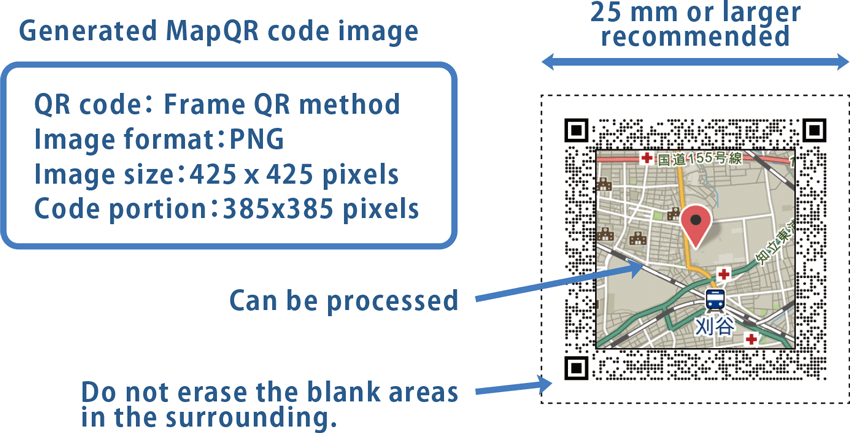 When printing, take note of the following to ensure reading performance.

(1) Secure blank areas in the surrounding
 To ensure that the QR code can be identified, do not erase the blank areas that are preset to the image.

(2) Printing size
 To ensure reading performance by the smartphone camera, printing in sizes 25 mm or larger is
 recommended.
 If printing in sizes below this, it is recommended that read tests be carried out first.

(3) Image processing
 You can process the map portion as it does not affect reading, but you cannot process the frame.
Reading MapQR Codes
At this point, MapQR codes can be read using the following applications.
We plan to increase compatible readers in the future.
Official QR reader "Q"
The ultimate QR code reader equipped with DENSO Wave's latest reading technologies.
iOS/Android
NaviCon Odekake Support
Smartphone navigation linkage application which can transfer the read location information to compatible car navigation systems.
iOS/Android
Application vendors wishing to provide MapQR decode technology, please contact the following.
Mail: mapqr@denso.co.jp MapQR division
MapQR sample

DENSO

Angel road
Click to browse various samples.